Transportation Improvement Program (TIP)
Transportation Improvement Program (TIP)
The Transportation Improvement Program (TIP) lists priority transportation projects where federal, state, and local funds are allocated to be spent over the next four years. The TIP is developed by the Adams County Transportation Planning Organization (ACTPO), the local Metropolitan Planning Organization (MPO) and addresses all modes of transportation. The Plan provides the public with an opportunity to play an active role in transportation project development in the early stages.
Adams MPO Transportation Improvement Program (TIP)
2023 - 2026 TIP
The TIP lists priority highway, bridge, safety, and enhancement projects for the period of October 1, 2022 through September 30, 2026.
The 30-day public review and comment period for the Adams County Draft FFYY 2023-2026 Transportation Improvement Program (TIP) and the Draft Air Quality Conformity Analysis (AQCA) Report was held May 16th - June 16, 2022. The TIP was adopted June 22, 2022 and will go into effect October 1, 2022.
Documents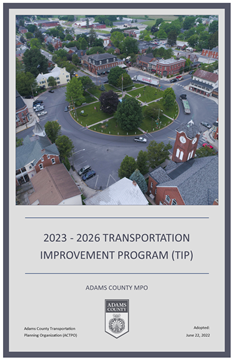 2023 - 2026 TIP Document​
Revised Adams TIP Financial Constraint Chart
Public Comment Meeting 1 Recording, June 1, 2022*
Public Comment Meeting 2 Recording, June 1, 2022​*
*Note: While these meetings were recorded for posting, the technology platform used failed to accurately capture the visual component of the presentation. The audio component was captured and posted.
Interactive Maps
Transportation Data Explorer
Explore the local transportation network and roadway data for Adams County through this interactive web application.
PennDOT One Map
The One Map application is a web-based application for highway and bridge projects on the Commonwealth's Twelve Year Transportation Program and Regional TIPs.